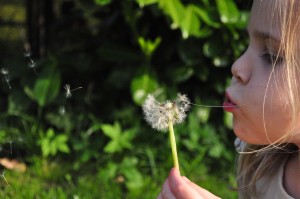 Child of faith
One of my favorite lines in the Bible is Luke 18:16. "But Jesus called the children to him and said, "Let the little children come to me, and do not hinder them, for the kingdom of God belongs to such as these."
When I hear this, the image of Jesus with open arms and children running to Him enters my mind. It reminds me of how important it is as parents to pass on our faith to our children, and to encourage our children to have a relationship with God so that their faith may grow.
Imagine the suffering that could be brought onto our children if we were to hinder them and stop them from knowing and loving Jesus?
The world is a hard enough place to live and life is confusing enough. Without any hope, how can a child possibly find his or her way and not struggle with reality when reality becomes too hard to deal with?
Jesus Christ wants to know our children and our children naturally want to know Jesus. Everyone is born with the yearning to be loved unconditionally, and to search for that merciful and almighty God. To deny a child of this is to deny the child of his or her inheritance of eternal life with their father in heaven.
The child's soul is so precious, so innocent. As parents, we have the chance to put them on the right path toward heaven from the moment they are born into this world.
As a parent myself, I feel like my child's soul is as beautiful yet fragile as a crystal vase. I want to do everything in my power to make sure my children have every opportunity to be the child that God wants them to be, not what I or society wants them to be. I want my children to be taught the right values and the right morals of the Catholic Church. I want my children to be able to know the difference between right and wrong and why. I want them to understand the teachings in the Bible, and to know how the teachings are relevant to their lives in the past, the present, and in the future.
As parents trying to raise our children in the Catholic Church, we struggle daily. The struggle isn't what most people may assume, which is that the children will rebel against what we are trying to teach them. Instead, it's the people around us in society who try to convince us (the parents) to follow their way. Many people we encounter are the ones that actually interfere with how we are trying to raise our children. For some reason, others feel they know what our children need most instead of us, the parents who are raising them.
Everywhere we turn in our everyday lives, we have some sort of socialism thrown into our faces or secular culture that appears enticing to our young children. This is present in everyday things, such as turning on the TV, opening the newspaper or walking through the shops with advertising and loud music everywhere.
Turn on the TV and there is some show with a pregnant teen seeking an abortion or the morning after pill. If we try to watch a family movie with the children, ads come on with practically naked women in their underwear, or they are talking about their periods. Open the catalogs and again there are women in underwear splashed all over the pages. Turn on the radio and there's a new song with sexually explicit themes. Clothes for children, especially girls, are more provocative. Boy's clothes have symbols of death and bad boy slogans. Turn on the news and you see people screaming, "My body, my choice, my rights!,"  or "As long as it feels good and you're not hurting anyone . . .".
Everywhere we turn it is literally in our face. If people who are not practicing Catholics think they have religion shoved in their faces all the time, they have no idea the uphill battle a practicing Catholic has these days. The world is for the world. It isn't for God. And those that want to live their lives for God have an incredibly hard task. One that requires much faith.
In raising our children,  my husband and I need all the faith we can get and than some. We must have a strong faith to be one hundred percent confident in how we are raising our children. If we doubt our faith and if we have doubt in God, then how can we expect our children to have any faith?
We must set an example and lead the way down the often narrow, rocky path ahead of us.
By leading our children in their faith, we are also giving them the tools they need in life. We are giving them the tools to be able to deal with challenges they may face, to be able to discern with wisdom, to love and respect themselves as well as their neighbor. To have compassion and empathy for the sick, the elderly, and the poor. To be humble and serve others in the name of Jesus Christ. To have faith, charity and love in everything that they do, but most of all,  to have hope in life because they know that their life has purpose in it. Our children understand that God has put them on this earth with a mission of their own and a will given to them by God. And with this everlasting love they received from God, they will have a greater chance of living with peace in their hearts and using that peace for the greater good of all mankind.