Our Miracle
It's been made clear to me over and over again in the last 12 months or more, that I can place my trust in the capable hands of the Saints in Heaven.
Too many significant moments have brought much clarity in our lives. Too many times situations in our lives have changed course and desperate circumstances have been completely turned around, for it to be just a mere coincidence.
"To one who has faith, no explanation is necessary. To one without faith, no explanation is possible."
Thomas Aquinas
If God is wanting to make His presence known in our lives, He is making this loud and clear.
Leading up to the birth of our son, I was becoming more and more unwell and struggling in general.
I was worried how I would cope with labor as I struggle with a low pain threshold and I was worried about the birth it's self and the baby's general well-being.
Leading up to the feast day of St Therese, I was praying the Novena to her, asking her to help me get through the rest of the pregnancy, labor and birth, for the baby to be born safely and healthy. If possible for me to go into natural labor as being induced always makes me anxious.
Sure enough at the end of the Novena, I was opening my daughter's window and there were a bunch of roses in full bloom that I hadn't noticed before. Immediately St Therese entered my thoughts.
I prayed this was a sign from her that everything would be fine in the end.
Immediately after I finished the Novena, I started praying to St Gerard for the same requests.
With my previous pregnancy, I was so incredibly sick with Hyperemesis and when my daughter was born at 37 weeks she had a big knot in her umbilical cord. The doctor said she was a miracle and lucky to have been born alive. I am absolutely convinced that St Gerard saved my daughter and kept her out of harm's way.
So I knew with confidence and trust, that whatever was to happen this time around St Gerard would be able to handle it.
Because of concerning issues, I was admitted into hospital, things weren't looking so great, it was decided for me to be induced as soon as possible. Which happened to be a Saturday.
We pretty much had his name picked out for months, even though we don't make it, official until, after the birth, the children were already calling him by his name and telling anyone who would ask. We had chosen Dominic for his first name. After Saint Dominic, the name meaning "Belonging to the Lord" and St Jude meaning "The praised one" in honor of St Jude, because of all the prayers he had answered for us this year, as well as our baby being due on his feast day.
The morning I was to be induced, my mother rang me and told me a friend had asked what name we had chosen for the baby. When mum told her, her friend pointed out that today, the day I am to be induced, is the feast of Mary of the Rosary, 7th of October. Mary gave St Dominic the rosary.
We knew then, that our baby, was supposed to be born that day.
Slowly prayers were being answered as the epidural worked so well I didn't even realize I was in labor. I was apparently in active labor for one only one hour, though I was ready to push, I had to wait until the doctor arrived!
Once my doctor arrived and after a few minutes of pushing our beautiful son, Dominic Jude was born. My heart literally exploded.
Then shock and amazement quickly filled the room as the doctor noticed two large knots in the umbilical cord.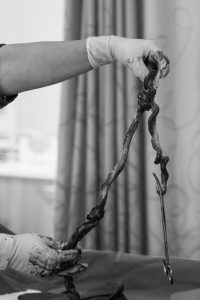 We were all shocked he was born alive. Another miracle of ours had survived something as rare as a true knot in the cord, but even more, so that it had two true knots. Something that any of the staff, in all their years had never seen. They actually had put the cord aside to show the rest of the staff.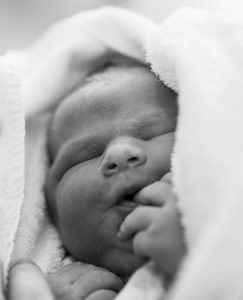 It is still shocking when I think about it and hard to comprehend the tragedy that could have taken place if that cord was pulled any tighter than what it was.
This is something no doubt that only God could have prevented from happening. Once again through God, St Gerard had worked a miracle and help kept our baby safe.
Praise and many thanks be to God for our beautiful miracle, Dominic Jude.