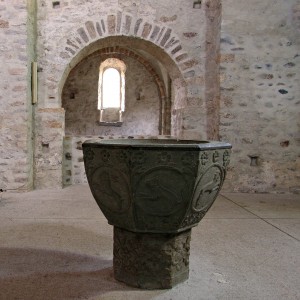 Finding Faith
When my husband and I were dating I was far away from the church. Years of being dragged to Sunday Mass and sitting through boring sermons that I did not understand how or why they related to my life was no great loss for me. Or so I foolishly thought, anyway.
My husband was not baptized or brought up with any faith at all, but he respected anyone who chose to follow their faith. For special occasions, however, we would attend Mass with my family or his Catholic side of the family.
Even though I wasn't practicing at the time and didn't really have much faith, I always assumed that I would be married in the Church, as I was brought up to believe that only God can validate a marriage between a man and a woman.
Three days before our first wedding anniversary, I gave birth to a healthy baby boy. I believe Something was triggered inside both of us. We had this beautiful baby boy and we were completely amazed by the whole experience of new life blessed upon our marriage.
We were in love with life!
I cannot remember which happened first, but when our baby was a few months old I had a dream of our Blessed Mother Mary.
In the dream, I was standing in an old convent, kind of like the one in the movie The Sound Of Music. Mary was standing on my right. In front of me was my husband. I remember looking at Mary, who didn't speak. I think she had her hands open. I looked at my husband and screamed as he had blood all over his hands. I looked at Mary again. Her brown eyes looked directly at me and she spoke to me with out uttering a single word. Her eyes were kind and loving. She was beautiful and full of grace. She told me something that would change not just my life but especially my husband's.
I looked back at my husband. The blood was gone.
I woke up. With out a doubt in my mind I knew that my husband was going to be baptized as a Catholic.
I put the dream in the back of my mind, not even telling my husband about it and forgot about it for a while.
Things slowly began to change in our lives. We started going to church and even though we didn't have a car at the time we would walk there with our son in the stroller or catch a taxi. I felt the calling to volunteer as a Catichese and teach the children at the public primary school-which I enjoyed so much and brought me closer to God. Little did I know that God was preparing me for a bigger task in my life later on down the track.
When our son was about six months old, we joined the Neocaticumical Way, a movement in the Catholic Church.
I know it was within our son's first year that my husband one day told me he wanted to become a Catholic.
The following Easter of 2005 my husband was baptized at the Easter Vigil.
I remember the feelings going through me. I think a part of me was in awe to see an adult stand up in front of a full church at Easter time and profess his faith in the Catholic Church! I questioned myself and wondered if I would ever be able to do that. So who had more faith: a person who was baptized as an infant and grew up as a Catholic, or someone who didn't grow up with any faith, finds faith within the Catholic Church and has the courage to stand up in front of everyone to be baptized into the Church?
This was a very special moment in our marriage and our lives as God was putting in the ground work needed for us to raise our children within the faith of the Catholic Church. Though we are neither perfect parents, nor perfect in our faith we both try really hard to take our faith seriously and to pass that on to our children.
When God has a plan, His plan is carried out perfectly. God knew what was in the future for us and He knew how to make it happen in a way that would benefit us and our children.
Calling my husband into the Catholic Church is one of the many miracles our family has witnessed and treasure in our hearts.
I love my husband more than words can say and sharing this wonderful faith with him brings us all that much closer together in our marriage.
It has brought us together as a team, as husband and wife, as a family united by faith.
God chose well when He chose my husband.
As always, God has not failed me or my husband when it comes to our faith.
If anything He has blessed us even more.
Reflections of Faith: Part One
http://allyjbrown.com.au/2015/12/04/reflections-of-faith-part-1/
Looking Within Ourselves
Faith is not always something that is easy to explain let alone describe. You know it is there, even if you cannot see it. You can just feel it. Like the cool night air, you cannot see it but feel it around you.
You can watch it will the leaves on the trees to rustle and the flowers in the grass to sway back and forth. Even though you cannot see the breeze with the naked eye, you can feel its power all around you, you know it's there the same way you are as certain about your faith as you are with the cool night breeze. You have felt its power within you and around you, you have seen it work through people and will them to act on their faith and their beliefs in our loving Lord Jesus Christ.
Reflections of Faith: Part Two
http://allyjbrown.com.au/2015/12/06/reflections-of-faith-part-two/
A Soul Reflection
What would it be like to have no faith?
To just walk this earth as if there were no afterlife? To know that one day I may not wake up and then that is it?
If I do not stand tall in my faith I will not stand tall at all. If I were to live without any faith, everything around me would surely crumble.
About six years ago, I had a mental break down. I was very sick and wasn't coping with much at all.
Reflections of Faith: Part Three
http://allyjbrown.com.au/2015/12/20/reflections-of-faith-part-three/
Child of faith
One of my favorite lines in the Bible is Luke 18:16. "But Jesus called the children to him and said, "Let the little children come to me, and do not hinder them, for the kingdom of God belongs to such as these."
When I hear this, the image of Jesus with open arms and children running to Him enters my mind. It reminds me of how important it is as parents to pass on our faith to our children, and to encourage our children to have a relationship with God so that their faith may grow.