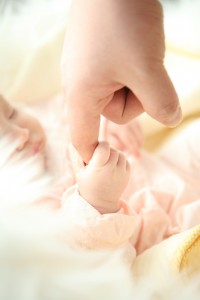 When God has His final say.
God will always have the final say. No matter what, no matter the situation. We as followers need to learn to ride with the tide so to speak.
But sometimes His final word can seem cruel and unfair.
In the midst of grief it's hard to see that there will be a bigger purpose that this is a bigger purpose.
All I want to do is scream and cry "Why?!" Why Lord would you do this when I am so ready to do what you want? Why Lord would you give me a baby that I prayed for, only to take it away from me?
But what I am slowly learning and realising is that His will is bigger than my own and that God will always have the final say in His will.
He is asking me to stand firm in my faith. I am being tested. I must continue to accept and carry my cross because to refuse my cross is to deny God and I honestly cannot do that.
In the midst of this heavy grief and sadness I am experiencing I pray for God to take my baby under His almighty protection and love.
I ask him to fill the emptiness I now feel in my heart with peace from the Holy Spirit .
I need strength to move forward but to also stand firm against the social expectations that when something is hard it is unacceptable it must be removed or avoided, especially if there is no immediate self pleasure or if it requires putting oneself last.
Do what makes you happy or feels good is what we are always told.
But what society fails to see is that true joy can be found in suffering when it is done in the name of God.
When we try to avoid suffering we are avoiding the opportunity to grow in strength and humility. To humble ourselves for the other and to allow blessings to grow and to be received from these experiences.
I prayed for months questioning God if welcoming another child in our family was what He wanted us to do. Finding out I was pregnant I was honestly full of joy.
Losing the baby, at almost ten weeks pregnant, has been devastating to say the least.
I still continue to struggle, at times, to understand completely, why God would give us a child I prayed for only to take it away from us.
But even though it was hard to admit I have come to the realisation that God hasn't taken my baby away from us. He gave us this child, knowing the joy we would have but also knowing we would accept His bigger plan for that child He has, with Him in heaven.
While I grieve for the loss of this precious child I rejoice in the gift God has given me at the same time. I have become a mother to yet another little Saint in Heaven.
How extraordinarily blessed I am to receive this gift! To be a mother of not just one but four Saints in heaven who I dearly love and treasure, who are waiting for my own arrival in Heaven.
But knowing this and understanding this does not take away the pain of losing a child. I have never felt or experienced such a deep sadness or this level of grief before in my life.
I feel a big hole in my heart and sometimes the emotional pain physically hurts.
Night time is the worse time as my mind wonders and I feel the quietness and loneliness of the night. It's usually than the tears come, when it's quiet enough to feel what I am feeling. No noise or distractions to take my mind off things.
Lately I hold my babies an extra second longer as their hugs give me comfort. I also feel so greatful for the seven we do have.
I have to take one day at a time now and my steps are small.
This sorrow I feel is heavy and I'm not sure how to deal with it.
I am trying to continue with my prayers, hoping that God is listening, hoping that one day He will give me the grace and wisdom to understand His plan in all of this.