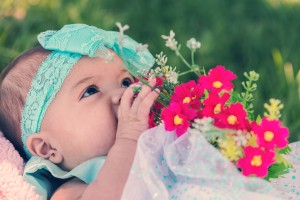 Lola.
This name I have heard all year, from my four year old, who has a little friend name Lila, but he calls her Lola.
Every time time he said it, it melt my heart and I quickly fell in love with the name.
So when I fell pregnant, the name Lola was on my mind.
As always I googled to find if there was by any chance a saint by the name of Lola. What I learnt was, however, that the name Lola was short for Dolores.
There is no saint Lola or saint Dolores.
Though the name Dolores, used as a Christian name derives from Dolors meaning sorrow.It is referred to the Blessed Virgin Mary under her title of Our Lady of Dolors of Sorrows.
Her feast day is the 15th of September (www.ewtn.com).The same month I fell pregnant and by looking back at my cycle, possible around the same day ( give or take ) when I would have ovulated and fallen pregnant ( ovulation is usually around 14 days after the first day of a women's period ).
But all of this didn't mean anything. In fact it was only just now reading what day the feast day is, that I looked back on my calendar with a sneaking suspicion.
Of cause I was floating on cloud nine ,at the time, with excitement with this new pregnancy so none of this made any connection, until I lost the baby at almost ten weeks.
All I could think about in my mind was my " Little Lola ". I desperately wanted her back.
As the trauma of what happened set in so did this unbelievable sadness that I have never experienced in my life.The grief was deep and still is.
I feel an extremely deep sorrow in my heart and almost six weeks later I still find myself in tears and in shock most days.
Slowly I started making the connection to the name I gave the baby. Lola.
As friends started suggesting that I pray Our Lady of Dolors of Sorrows, something I didn't really know about until reading about it recently, the connections were becoming more clear and not just a pure coincidence.
I have struggled to pray since losing Lola. I felt terribly betrayed by God and my faith was rocked to the core, but at the same time I also clung to it like a life raft hoping that simple faith would get me through this.
My heart aches for my little Lola and more than anything I long to have her back.
But realising all of these connections I know somehow God's plan is at work and my little Lola is part of that plan. God needed another little Saint in heaven and as her mother it was my job to carry her for as long as God needed me too and than trusting in our Lord to let her go straight into His hands.
Her name has so much meaning, the sorrow I feel from losing her and the sorrow Mary felt through out her life. Lola has given me a gift. The gift of knowing I can rest in the hands of our Mother in heaven, who more than anyone would understand the sorrow that I feel today.
The gift of comfort, the gift of motherly love.
Most of all the gift of the seven graces the Blessed Virgin Mary grants to the souls who honor her daily by saying seven Hail Mary's and meditating on her tears and dolors (sorrows).
The devotion was passed on by St. Bridget.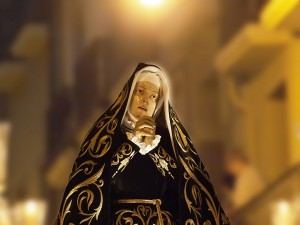 HERE ARE THE SEVEN GRACES:
1. I will grant peace to their families.
2. They will be enlightened about the divine mysteries.
3. I will console them in their pains and I will accompany them in their work.
4. I will give them as much as they ask for as long as it does not oppose the adorable will of my divine Son or the sanctification of their souls.
5. I will defend them in their spiritual battles with the infernal enemy and I will protect them at every instant of their lives.
6. I will visibly help them at the moment of their death, they will see the face of their Mother.
7. I have obtained from my divine Son, that those who propagate this devotion to my tears and dolors, will be taken directly from this earthly life to eternal happiness since all their sins will be forgiven and my Son and I will be their eternal consolation and joy.
(http://www.themostholyrosary.com)
It may be hard for some to comprehend how I can find blessings from experiencing something so devastating as losing a child.
But what people forget is that my child is not lost. She is exactly where she is suppose to be and where I pray for all my children to go eventually.
Sure it is never easy letting go of a loved one, especially a child and I'm sure I will continue to experience this sorrow for some time yet, as after, all I am human, but I can also find peace in knowing that there is a purpose in all of this.
My child didn't need to be born to walk this earth. Her job here, was simple and completed in the time God designated, while still in my womb and yet she continues to do her job God gave her, though now in heaven.
She is bringing me directly into the arms of our Mother Mary where hopefully I will find the comfort and healing that I have so desperately needed over the years.
As there are just days now before Christmas, my anxiety and health in general is taking its toll, as I absolutely love being pregnant at Christmas and meditating about Mary's pregnancy and journey to motherhood.
My stress levels are high as I deal with my health problems and children on the autism spectrum that have their daily struggles.
This gift from Lola and our Mother Mary could not have come at a better time for me as I struggle to stay out of hospital so I can be here for my children.
I pray that Mary hears my prayers and I also pray that she offers comfort to those who are also struggling this Christmas , especially for those who are also hurting from losing a child.