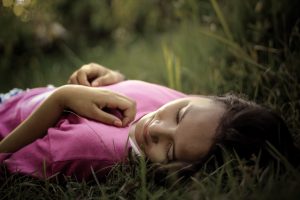 A visit from a saint.
I was feeling pretty low and rotten. Completely exhausted from looking after a newborn who didn't want to sleep and a toddler who decided she would throw tantrums every time I picked up the baby.
I lay down on my bed and completely crushed. Before falling asleep I said a prayer to St Therese asking her to sit next to me and to give me a sign that she was here. I was feeling quite vulnerable.
I fell asleep after talking to St Therese. After a while, I woke up feeling stunned. I had remembered the dream I had just dreamt.
My dream had taken me back to my high school " St Mary's Star of the Sea college " which has a big reserve and was located across the road from the beach.
In the dream, I was with Dominic, who was in the pram. I was looking through the windows watching the students. I remember in the dream it was night time. So the sky was a dark color and the windows were lite up.
An older lady appeared near my side and started talking to me almost being overly concerned for me. She wouldn't let me go across the road to the beach after I said I wanted too, because she was afraid it was too rough for the baby and me. Her words were "I don't want you to fall in.". I looked down and all of a sudden I'm on the end of a grassed cliff with the pram, the deep waters of the ocean were rough and dark. I think at this moment I stepped back at the same time she also had grabbed my arm and pulled me back from the edge.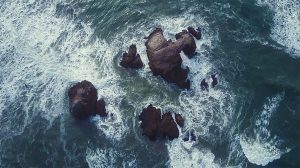 Suddenly I'm inside a large hall ( still part of the school ) and they had on a mass and some sort of ceremony. I noticed the cross and possibly a statue of Mary. I spoke to a few people telling them I'm an ex-student.
I noticed a nun, she was kneeling in front of a statue of Mary. Her face tilted upwards. Completely serene.
She was old and wore glasses. Her habit was of the older style and the headpiece went down to the floor. Her hands joined in prayer.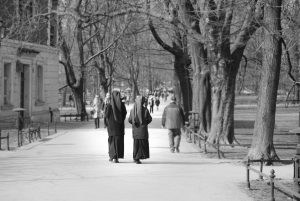 In the dream, I had asked a girl who was a student who the nun was?  She said something about her working in the kitchen and asked me if nuns still go to heaven to which I replied yes. The girl asked me if I ( meaning me Ally ) will go to heaven and I said if I ask for forgiveness. I then took her hand and said that she will go to heaven as well if she asks for forgiveness. The girl smiled at me.
I sat feeling stunned for a few minutes. Could this have been St Therese? Was she pulling me back so I wouldn't fall into a deep depression of despair? One thing was clear though. I had to go to confessions. I understood that part loud and clear. A few days later I went to our local parish to receive the sacrament of reconciliation.
I felt such an incredibly close bond with St Therese and I felt so loved and secure. She is such a special friend and I feel honored to be able to call her my friend.
God really does hear us when we cry to him for help. Heaven is full of wonderful saints who are waiting to answer our prayer.
Some people may think I am being silly but I honestly don't care. I know what I saw in my dream and I know how I felt when I woke up.
All it takes is a little bit of faith and anything can happen. Nothing is ever impossible with faith.